Global network
We offer a highly optimized and competitive service through our worldwide route network. Not only do we have a strong foothold in the Asian market, but it is the geographical origin of all our main trade routes, resulting in a network built for efficiency.
A network of cross-trade routes links the other most important markets together, such as North America and Europe to the Middle East, Africa and Asia. In addition, with the Far East and Europe as native tonnage centers, capacity and cargo synergies with sister company Wallenius Wilhelmsen Ocean allow us to offer a more complete service to our customers.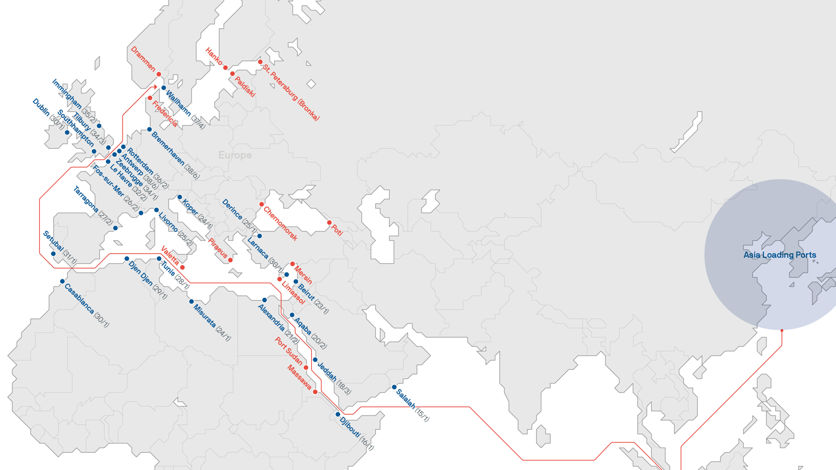 How to read our trade maps
Blue dot next to calling ports represents loading/discharging port. Red dot represents ports available via transship service
Numbers in parenthesis ( ) written right next to the loading/discharging ports are transit time and frequency per calling port.
Shown transit times are calculated based on - the last loading port in Asia (ex-Asia), and Bremerhaven (ex-Europe) - an average of ALL voyages in 2019 (past & planned)
Frequencies represent our core product commitment and may change without notice. For sales calls with specific time of shipment, we highly recommend our website schedule for further guidance.
Displayed numbers represent an average of past and planned voyages and may change without notice due to operation reasons.
Given transit times are calculated based on the last loading port in Asia. They are not legally binding and may not be used for contractual commitments.
Learn more about our business area