What does the future look like for the electric vehicle market?
With electric vehicles set to make up 10% of global passenger vehicles sales by 2025 and increase from there, Erik Solum, senior auto market analyst at Wallenius Wilhelmsen considers the cost and technology improvements driving the electric revolution.
Fast forward ten years from now: you're entering an auto dealership to buy a new family vehicle and you ask the sales consultant what milage you can get out of the compact SUV in front of you. The answer will probably be in kW per mile. Why? Because, according to forecasts, it's far more likely that said vehicle will be electric powered rather than fuelled by an internal combustion engine (ICE).
The pace of change has accelerated in the electric vehicle market over the past decade. The average price of lithium-ion battery packs used in EVs has fallen significantly in recent years, driven predominately by an increase in demand related to incentives as well as improvements in battery chemistry and better battery management systems. As a result, the cost of a lithium-ion battery today is close to $100/kWh compared to almost $400/kWh five years ago. In the longer term, this figure might fall to as low as $50-60/kWh.
Parity regarding the total cost of ownership (TCO) is also tipping in favour of EVs compared to ICE vehicles. According to BloombergNEF, large cars in Europe are set to hit parity by 2022, while smaller vehicles in markets such as India and Japan will follow after 2030. With costs decreasing and consumer consciousness on the rise, EVs are set to comprise 10% of global passenger vehicle sales by 2025, rising to 28% in 2030 and reaching nearly 60% in 2040.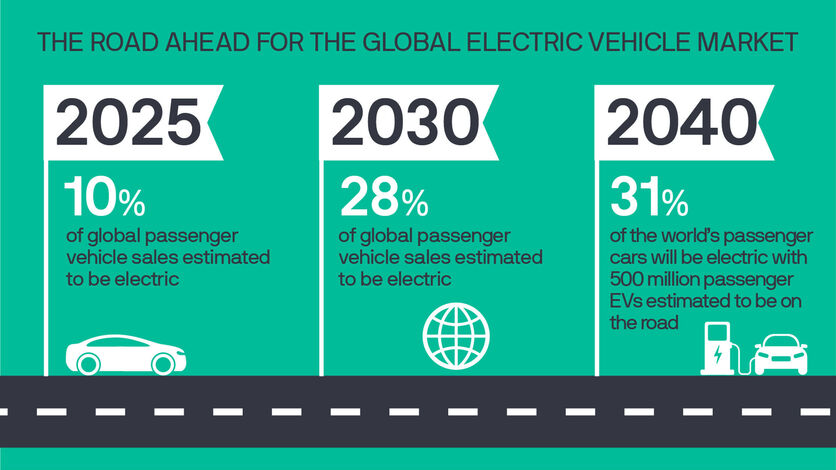 A greener ride: Emissions and legislation
Policy support is a key driver in EV adoption. The European Union has long led the way when it comes to cracking down on vehicle emissions. Legislation states that today all new cars sold in the region should emit on average 95g/km of CO2. This mandate, combined with incentive boosts from green recovery funds and a flood of new, attractive models to the market meant that Europe was the growth winner for battery EVs in 2020 – superseding China as the motor of EV growth – with an increase of 140% compared to the previous year, which is all the more impressive in a vehicle market that was down by 20% year-on-year.
For the first time since 2015, electric vehicle sales (both plug-in and battery EVs) in Europe have outpaced NEV (New Energy Vehicles including both battery electric vehicles, plug-in hybrids and fuel cell vehicles) sales in China.
Looking to the future, both regions will continue to drive EV sales. According to research by BloombergNEF, China and Europe will represent 72% of all passenger EV (BEV and plug-in) sales in 2030.
In other markets, growth is expected to come but at a later point in time. EV sales in the US in 2020 might have only increased by a meager 4%, but research suggests that the country will catch up with other leading EV markets over the next decade, also highlighted by the new administration. Nearly 60% of US households have two or more cars and many have the ability to install home charging, making them ideal adopters as EV economics, range and recharging options continue to improve.
So, where does this leave the consumer looking to snap up a family SUV? By 2040, BNEF predicts there will be 500 million passenger EVs on the road, out of a total passenger vehicle fleet of 1.6 billion. This means about 31% of the world's passenger cars will be electric. Yes, you might still be able to buy an ICE-powered vehicle – by 2040 it is expected that there will still be more kilometers driven globally by ICE vehicles than EVs – however as government incentives and emissions targets make greener technology an even stronger focus for auto OEMs, one thing is certain: electric vehicles look set to be in pole position.
Sources: BloombergNEF Electric Vehicle Market Outlook 2020; Forbes; IHS Markit