Breakbulk handling equipment 2022 outlook: How we're minimizing disruptions for customers
Congested ports, labor shortages driven by high cargo volumes and ongoing pandemic-related issues, and the general imbalance between demand and supply mean supply chain disruptions remain commonplace as we enter 2022. Wallenius Wilhelmsen's head of equipment Johanna Karlberg considers what effect this could have on the logistics and availability of handling equipment needed to transport breakbulk – and how we're working proactively to overcome the challenges of today's market.
What do supply chain disruptions mean from a handling equipment perspective?
Handling equipment is one piece of the global logistics puzzle, meaning it's not immune to the imbalance in tonnage demand and congestion hampering supply chains. For example, if the pick-up of cargo from handling equipment is delayed due to labor shortages or stretched trucking capacity at the discharge port, then that will have a knock-on effect on how quickly we can reposition that piece of handling equipment and make it available for cargoes in other ports.
Widespread port congestion is another factor, as this can delay the general flow of empty handling equipment and make it more difficult to plan. Given the current short tonnage situation, vessel schedules might also change unexpectedly, meaning a port call where handling equipment was due to be loaded or discharged is cancelled and a new plan needs to be created at short notice.
Meanwhile, a lack of spare parts due to supply chain disruptions could impact the speed of handling equipment repairs and maintenance.
Are there any trade routes where you anticipate significant impact on handling equipment availability?
The general flow of cargo on handling equipment has shifted globally. Whereas historically our handling equipment was mainly repositioned empty to Europe from both the US and Asia, we are now balancing the empty repositioning flow between Europe and Asia where export volumes have increased considerably. With both the current global tonnage shortage and the high demand for tonnage in Asia, we could see fewer sailings calling at European ports, which might mean a delay in empty handling equipment being discharged in Europe.
What does this mean for OEMs and forwarders transporting breakbulk?
At Wallenius Wilhelmsen, we work to minimize any delays for our customers but due to current disruptions, the lead time to distribute handling equipment for export cargo can be longer than normal. That said, customers can play their part too and we rely on their ongoing support to ensure there is a quick turnaround of our equipment. For example, instead of delivering export cargo to port 10 days before vessel arrival, customers could do so 5-7 days prior, helping to eliminate waste. Equally, fast pick up of cargoes at destination will help ease port congestion and redeployment of equipment elsewhere.
How is Wallenius Wilhelmsen preparing for and responding to these challenges?
We work in collaboration with our sales and sales support teams and customers to ensure we have all the necessary information about export cargo bookings and delivery of cargo to the load ports so we can match these products with handling equipment that is already available, or incoming to the port.

We are also in close contact with our trade teams and vessel operators to ensure there is space onboard vessels for empty handling equipment that needs to be repositioned. To optimize the loading of cargo, we liaise with port operations regarding handling equipment requirements and to find alternative stuffing solutions if necessary.
Scroll through to explore our range of handling equipment for breakbulk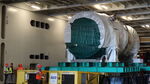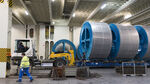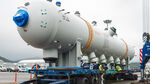 How do we ensure we have equipment available to handle our customers' products and minimize delays?
In addition to the above, we have a global weekly forecast for the coming five weeks in place that gives us an overview of all expected export bookings. Based on that forecast we then plan where handling equipment needs to be moved to be available for the booked cargo. We also take handling equipment incoming with import cargo to a port into consideration to optimize the unpacking of these units so we can ensure they are available for export cargo again. The goal is to have as fast a turnaround on the fleet as practically possible.
Handling equipment in numbers
Over 11,000 units of handling equipment across Wallenius Wilhelmsen
Consists of bolsters, roll trailers, Samson heavy lift trailers, blocks and beams and multi-purpose bogies with a capacity ranging from 25 tonnes to 160 tonnes
Specialized equipment has a capacity of up to 400 tonnes cargo weight
What benefits does our wide range of handling equipment offer customers?
The diverse range and quantity of the equipment in our fleet not only ensures safety and flexibility when handling customers' products, it also means we have a range of options at our disposal when it comes to finding suitable handling equipment for all manner and size of breakbulk. This is especially crucial in helping to minimize delays and keep supply chains running smoothly given the ongoing disruptions.
You previously trialled GPS trackers as a means of locating handling equipment. What was the outcome of that trial?
The type of trackers we first trialled unfortunately did not provide an ideal solution, but we are currently looking into alternative GPS tracking solutions, with the objective to equip our handling equipment fleet with trackers. The current semiconductor shortage is however slowing down this initiative.
Are there any breakbulk sectors that you envisage will grow this year? What impact will this have on handling equipment demand?
The power sector is strong globally with a high number of power transformers moving across the globe. We're also seeing many projects within the rail sector. For project cargo we try to plan for all projects together, to ensure handling equipment moved with cargo in one direction is then used for cargo in the other direction so that we can cover all needs. Ideally handling equipment should be used for cargo instead of being repositioned empty.
Looking to the future, what predictions do you have for our handling equipment fleet?
I believe that the current high pressure on our handling equipment will continue throughout 2022. But by working proactively for effective repositioning options and trialing new solutions, such as the next phase of our GPS tracking initiative, I am confident that we can optimize the turnaround of our handling equipment and lift even more cargo.